Auf dieser Seite finden Sie alle Informationen zum
Best Choice Award 2013.
Golden Award Media's Choice Award
NVIDIA Project SHIELD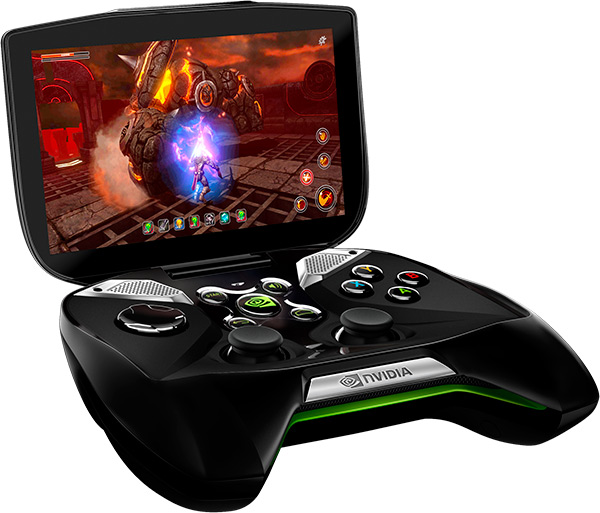 Take your Android gaming anywhere with NVIDIA® Project SHIELD, a gaming portable designed for gamers who yearn to play when, where, and how they want. With the advanced processing power of NVIDIA® Tegra® 4, a full-size game controller, breakthrough Wi-Fi technology, and stunning HD video and audio, Project SHIELD redefines what gaming can be.
Stand auf der Computex: Booth N1427
Media's Choice Award
Synology DiskStation Manager 4.2
The award-winning DSM empowers every Synology users with endless sharing possibilities with virtually any devices connected. DSM 4.2 packs more than hundreds features to help people to store, share and enjoy data in a secure and optimized environment.
Stand auf der Computex: Booth J0317a
Best Design Award
Asustek Computer Inc. ASUS Transformer AiO
ASUS Transformer AiO is the world's first AiO PC with a detachable display that doubles as a tablet for three distinct modes of use: desktop PC with Windows 8, tablet with Android 4.1, and remote desktop for Windows 8 using the multi-touch tablet.
Stand auf der Computex: Booth M0810
Golden Award
ATEN Energy Box EC2004
ATEN Energy Box EC2004 provides the advantages of safety, reliability and energy-saving operation via the integration of environmental and power consumption information.
Stand auf der Computex: Booth D0201a
Golden Award
GCCA gEnergyRouter
Innovative micro DC-grid architecture and supports renewable energy for carbon emissions reduction, the essential elements for building green cloud datacenter.
Stand auf der Computex: Booth M1209a
Golden Award
Micro-Star International GAMING Motherboard
Exclusive Audio Boost technology enhanced GAMING audio, Killer network eliminates latency and ping spikes, OC Genie 4 boost system performance within 2 modes. Gamers have the best GAMING experience by MSI GAMING motherboard.
Stand auf der Computex: Booth L0609
Golden Award
PenPower WorldPenScan BT
No need to type. Easy to recognize, translate and apply. Just scan documents or books anywhere, and enjoy translation, keyword searching, and data sharing anytime with Android Phone/ Tablet or Windows/ Mac. Make your mobile devices become portable work assistant or language learning tools.
Stand auf der Computex: Booth B0725a
Golden Award
Promise Technology Vess R2600fiD
The Vess R2600fiD 3U16-bay series are cutting-edge dual active-active high availability 8Gbps FC and 1&10Gbps IP SAN solutions that consolidate both block and file storage onto a single platform, providing small to medium businesses a cost-effective way.
Stand auf der Computex: Booth J0618
Golden Award
Realtek Semiconductor 4K2K Smart TV SoC
RTD2995 is a 4K2K smart TV single chip solution. it supports 4K2K video decoding, 4K2K high resolution UI and direct driving 4K2K panel. It is a cost effective and high performance solution.
Stand auf der Computex: Booth T201F
Computer & System
Acer Aspire R7 Notebook
The Revolutionary 15.6" Aspire R7, with magic EzelTM hinge allows it to flip into different usage modes. The convertible design to immerse you in content like never before.
Stand auf der Computex: Booth L0818
Computer & System
Synology NVR614
As a dedicated stand-alone network video recorder (NVR), NVR614 is industry's first embedded NVR solution to provide scalable external storage (up to 24TB) along with high performance and exceptional low power consumption.
Stand auf der Computex: Booth J0317a
IPC & Embedded Products
AAEON 21.5" Full HD Infotainment Multi-user and Multi-Touch Display
The ACD-521M is a display with multi-user technology that allows up to 20 users to operate in their individual computer simultaneously. This display equips Projected Capacitive Multi-Touch Screen. IP65 certified and Anti-scratch front bezel.
Stand auf der Computex: Booth A0904
IC & Components
AMD AMD's Next Generation Elite Mobility Accelerated Processing Unit (APU) codenamed "Temash"
The all new, next generation AMD A-Series Elite Mobility APUs, codenamed "Temash" are engineered to deliver the best entertainment and productivity experiences in the widest range of highly mobile Windows 8 devices including tablets, hybrids and notebooks
Stand auf der Computex: Booth L0617a
Peripherals & Accessories
ATake Co. AquaFloat Wireless Floating Speaker
The ASP-689 is a Portable Bluetooth Speaker which allows you to play your music wirelessly from any bluetooth enabled device. Complies with IPX7 International Waterproof Standard. Drop the ASP-689 in your pool, lake, or river…no worries, it floats!
Stand auf der Computex: Booth B0909
Peripherals & Accessories
KYE Systems Corp.(Genius) Genius GX Gaming Gila Mouse
Professional 12-button MMO/RTS gaming laser mouse. Over clocking SCGii sensor to render a superb 8,200dpi performance. Up to 72 macro keys to set any techniques, weapon for instant game battle use. Ergonomic design for long MMORPG/RTS game section
Stand auf der Computex: Booth L0631a
Communication
Broadcom Corporation BCM47521
The BCM47521 is the industry's first Global Navigation Satellite System (GNSS) Location Single Chip with Geofence Capabilities while consuming 60x less power. Chip opens the door for innovative location-based services such as social networking, place-based mobile commerce and local merchant advertising
Stand auf der Computex: Booth T101B
Communication
Micro-Star International HD+ Media On-Demand System
Specially designed for bus operators and passengers with infotainment and telematics services.
Stand auf der Computex: Booth L0609
Communication
SAPIDO TECHNOLOGY INC. 3G/4G minicombo smartphone docking charger and audio-in wireless router
Equipped with a lightweight, replaceable, multi-functional docking charger, which supports different brands of mobile for power charging, 3G Internet access, and music player at the same time. Convenient Plug-and-Play and easy installation.
Stand auf der Computex: Booth D0417
Display & Digital Entertainment
Asustek Computer Inc. ASUS CUBE with Google TV
ASUS CUBE with Google TV showcases a perfect combination of an attractive cubic form, a custom intuitive user interface, and unlimited online entertainment from Google Play. It also offers ASUS-exclusive motion controlled games, and challenges more mundane set-top box designs to deliver entirely new experiences.
Stand auf der Computex: Booth M0810
Display & Digital Entertainment
Litemax Electronics 38" Spanpixel Resizing LCD
SSD3840 is an innovative ultra-wide, sunlight readable,Ultra High Brightness LED backlight LCD display.It is high brightness with 2000 nits LED backlighting technology and sunlight readable panel, can display high-quality video with energy-efficient.
Stand auf der Computex: Booth C0522
Data Storage
ASUSTOR Inc. Network Attached Storage
The AS-602T is the ultimate hub for your digital entertainment lifestyle. Featuring dual gigabit Ethernet ports and multitude of NAS and mobile apps, the AS-602T is primed to provide you with an extraordinary experience that you will never forget.
Stand auf der Computex: Booth L0404
IOT Application
AGAiT Technology Corporation Eclean Robotic Vacuum Cleaner
The EC03 is equipped with a high sensitive wide-angle lens, and embedded the cloud intelligent remote management system that enable you a intelligent cleaning with smart surveillance.
Stand auf der Computex: Booth A0521a
Green ICT Award
Acer Acer B6 Series LED Monitor
The B6 Series LED-backlit monitors made with Post-Consumer Recycled plastic complies with EPEAT Gold standards for environmental protection. The B6 Series exhibits professional style plus ergonomic design with multi-functional ErgoStand.
Stand auf der Computex: Booth L0818
Green ICT Award
WD Green Desktop 3.5-inch Hard Drive
WD Green desktop 3.5-inch hard drives are innovatively designed and manufactured with lead-free, conflict-free and halogen-free materials. WD GreenPower Technology keeps drives cool and quiet for increased reliability and low acoustics.
Stand auf der Computex: Booth L0810
Jury's Special Award
Adonit co. Jot Touch 4
Jot Touch 4 has palm rejection and more than 2000 pressure sensitivity levels. Designed with patent precision disc and dampening tip, this Bluetooth 4.0 stylus makes the world's most natural and precise renderings. It has two programmable shortcut buttons, supports more than 20 iOS mobile applications and can lasts up to a month on a single charge with normal use.
Stand auf der Computex: Booth C0629
Jury's Special Award
CANSONIC Twins Cam
Twinscam with two lenses, one is telescope for 30 meters and the other one is 140 degree wide angle, both of them can be rotated 180 degree, so Twinscam can record inside, outside, frond side, and back side of our car.
Stand auf der Computex: Booth C0735
Jury's Special Award
TOPlay HM-88 TrueOpen TM Non-invasive Hearing Aid System .
HM-88 creates no blockage in user's ear. Through its PDAS and OGS technologies, it supplies wide frequencies high quality sounds and smartly eliminates the feedback whistling and background noises. It's used-and-adapted, and improves living quality instantly!!
Stand auf der Computex: Booth C0332